In 1973, Jenny Smith became one of the first abused women to find sanctuary at a refuge. Forty-one years later, she says women are suffering more than ever.
Jenny Smith will never forget the phone call that saved her life. It was her second attempt after finding herself incapable of speech the first time. Trying again a few days later, she managed a few gasped words: "I'm a battered wife, can you help me?"
After being ignored by a doctor and a psychiatrist and told to go home and make peace with her husband by a priest, this time a woman's calm, soft voice, said: "Can you make your way here? We are in Chiswick, 2 Belmont Terrace. Can you get here? Just try to get here."
It was May 1973, there was no law against marital rape in the UK, lone women could not apply for a mortgage, and domestic abuse was rarely mentioned. Smith had endured two years of violence from her mentally unstable husband, including vicious beatings, knifings, burns, bites and an attempted drowning. Within 48 hours of that call, with the help of a neighbour, she had left her home in Hackney, east London, and was standing outside an ordinary terraced house in west London – her seven-month-old daughter in one arm, her 23-month-old at her side.
When the door swung open she was enveloped in a woman's embrace. "Come in, love," she said. "You're safe now." As she stepped over the threshold, Smith unwittingly became a small part of feminist history: one of the first women to be given sanctuary in the world's first women's refuge.
Now 67, she records her story in a new book , The Refuge, which details her part in the women's movement that grew out of Chiswick Women's Aid and created today's domestic abuse refuges.
At the kitchen table of her flat in south London, Smith rolls a cigarette amid pictures of her three children, seven grandchildren and one great-grandson. Until now, her children have not known the details of Smith's difficult and violent past: her mother's undiagnosed schizophrenia, her year as a runaway in London aged 13, and, most of all, her physical and emotional abuse for years at the hands of her then husband. After he broke into the refuge and threatened to kill her, he was arrested and spent time in prison before being transferred to a psychiatric ward.
Jenny went on to meet another partner and have a third child, later becoming a foster mother for 15 years. "My children have been 100% supportive," she says. "My eldest girl, she wept through it, in parts.
"I made a promise that if I was going to do this, it had to be the whole truth. All those years ago, no therapy was ever offered; now I don't need it. It was very painful to write it, it still is painful, but it's part of the healing process, it is my counselling."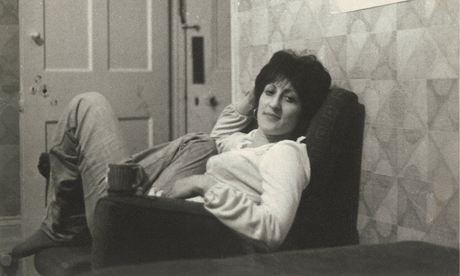 Jenny Smith in the refuge in the 1970s.Smith chronicles a time when society turned its back on women who were being attacked by their partners. Suffering from constant black eyes and bruises and painfully thin, her pleas for help were ignored, even as she was kicked and punched in a street in Hackney while heavily pregnant.
It was when her second child was seven months old that she saw, by chance, a small article in the Daily Mirror which read: "Victims of domestic abuse? Need help?" "There was a phone number," she said, explaining how she hid the article under a corner of the carpet so her husband would not find it. "If he had found it he would have killed me."
The advertisement was part of a public awareness campaign being waged by the dynamic founders of Chiswick Women's Aid, Erin Pizzey and Anne Ashby, who drew back the curtains of England's homes and forced society to look inside. When suffering women turned up at the refuge, none were ever turned away.
"Women who have been beaten, their self-esteem is at rock bottom. When ladies like Erin Pizzey and Anne Ashby come along, you look at them and think, my God, they are really powerful, strong ladies," says Smith. "I took something from that and I have kept it with me."
Such was the demand that Chiswick Women's Aid moved into a bigger house. The number of residents reached the high 70s, and still no new arrivals were ever turned away.
"There were women and children everywhere," said Smith. "There were lengths of brown hessian hanging at the windows as curtains; mattresses snaked out of the bedrooms and up the hallways in any space that we could get them. It was a bit like a refugee camp, but it was wonderful … I cannot get away from the fact that Chiswick saved my life. You felt safe, you knew your children were safe; there was safety in numbers."
Smith eventually travelled with Pizzey to Holland, Germany, Belgium and France to publicise Chiswick and rail against the scale of violence against women.
And 41 years on from the day she entered the refuge, Smith is still railing. With levels of domestic abuse at epidemic rates, nearly 58,000 women in England and Wales at high risk of homicide or serious harm, and two women dying a week on average, she feels little has really changed. A recent report by Her Majesty's Inspectorate of Constabulary highlighted alarming and and unacceptable weaknesses in the way the police service responds to domestic abuse.
"Women are suffering more than ever and the government wrings its hands," she says. "I can only talk from my experience. If this book empowers one woman, persuades her she can get out, if it saves one woman, then I am happy."
This article is Via The Guardian, 28th April 2014. You can read the article in full on the Guardian website.